Apple and Hemp Crumble Recipe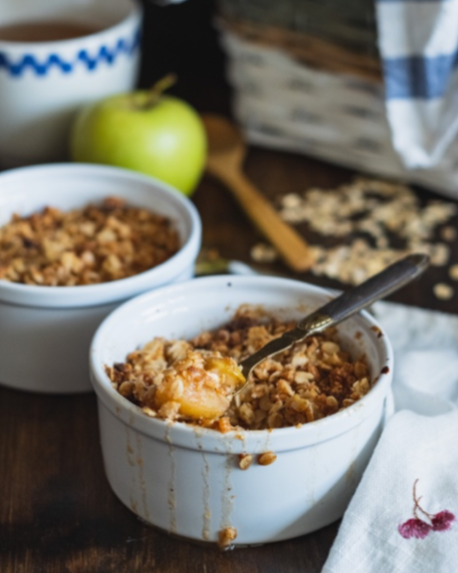 Servings: 
Preparation time: 

Description: 
The tangy sweetness of apples and the warm, spicy crunch of homemade oat crumble is as classic a combination as any. Now, we've added a nutritional boost to this winning dessert without compromising on flavour. Our secret? Ingredients infused with the natural benefits of hemp, from our 13 Seeds Hemp Porridge in the nutty crumble to our signature Hemp Honey sweetening both the crumble and the apple base. Cinnamon, nutmeg, ground ginger, and vanilla essence complete this flavourful crumble. For a sweet treat during any season, try our fresh hemp-infused twist on this well-loved classic.

Ingredients: 
Filling
1kg apples, peeled, cored and cut into thin slices
¼ cup coconut oil
2 tablespoons rice flour
2 tablespoons 13 Seeds Hemp Honey (or to taste)
2 teaspoons cinnamon
½ teaspoon nutmeg
¼ teaspoon ground vinegar
1 tablespoon vanilla essence
2 tablespoons lemon juice
Crumble Topping
1 cup almond meal
2 tablespoons desiccated coconut
1 cup 13 Seeds Hemp Porridge
¼ cup 13 Seeds Hemp Honey
¼ cup coconut oil, softened
¼ cup chopped nuts (eg walnuts, almonds, pecans)
Method:
1. Heat oven to 200°C.
2. Place the sliced apples in a large bowl
3. Melt the coconut oil in a saucepan over low heat. Stir in the rice flour to form a paste, then stir in the 13 Seeds Hemp Honey, cinnamon, nutmeg, ginger, vanilla essence and lemon juice.
4. Increase heat and allow to gently simmer for 3 minutes, until the mixture has formed a sauce.
5. Pour the sauce over the apple slices, then toss until all the apple slices are coated with the sauce.
6. Now make the crumble topping. In a mixing bowl combine the almond meal, coconut, 13 Seeds Hemp Porridge, 13 Seeds Hemp Honey, coconut oil, and nuts. Sit until all the ingredients are moistened. Spread evenly over the apples.
7. Bake at 200°C for 15 minutes then reduce the temperature to 180°C and continue baking for 35 to 45 minutes. The apples should be tender and the crumble golden brown.
8. Cool until the crumble is warm rather than hot, then serve with custard or ice cream.
Once you have tried this recipe, please let us know how they taste! 
Also, please let us know your preparation time and servings so we can update the average's for our 13 Seeds Family!