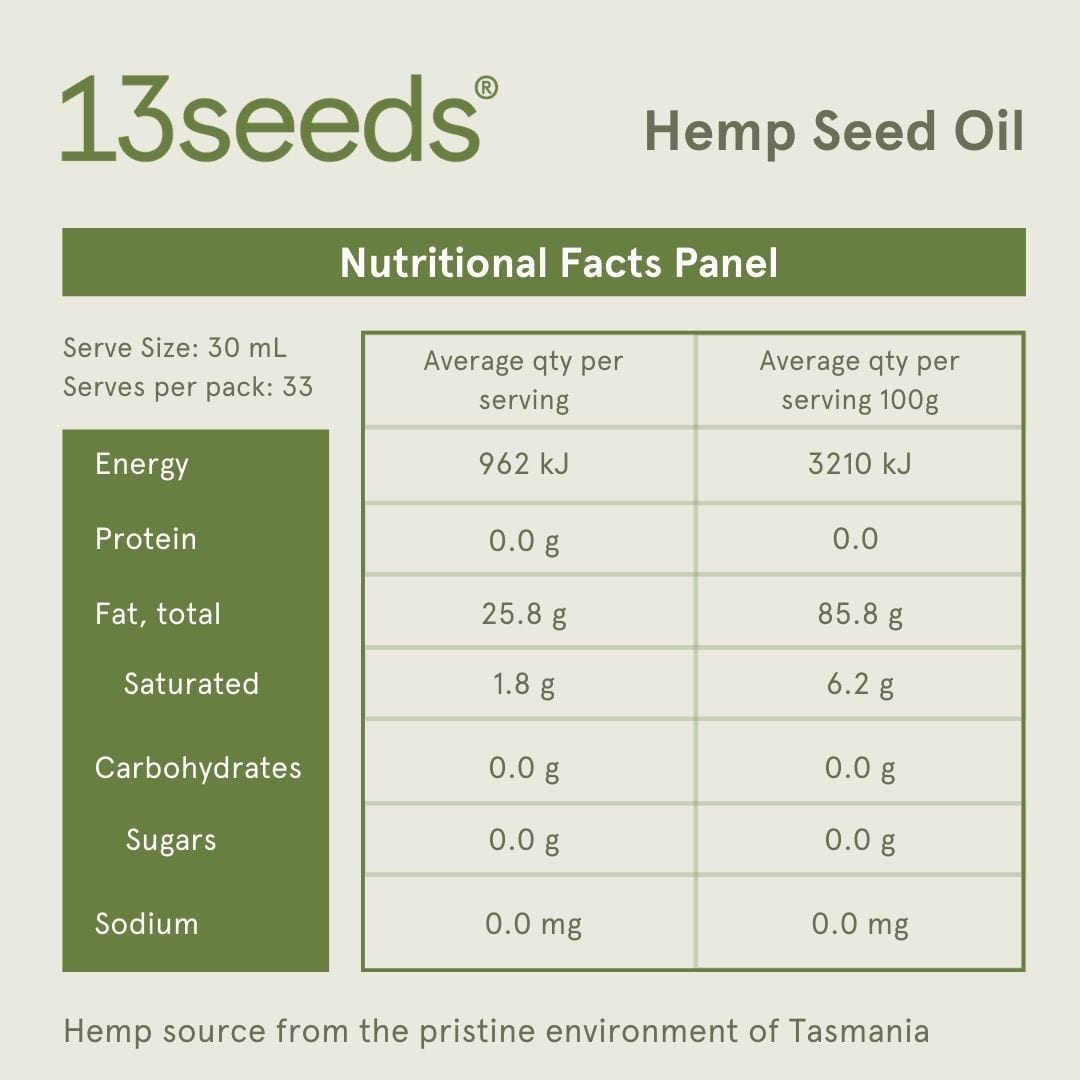 Please hurry! Only 241 left in stock
Cold pressed omega hemp seed oil, providing a balanced source of Omega 3,6 & 9 fatty acids.
Regular price

Sale price

$18.00

Unit price

per
10 customers are viewing this product
Free standard shipping for orders over $75 within Australia
Disclaimer
Always read the label and follow directions for use. If symptoms persist, talk to your healthcare provider. Supplements may only be of assistance if dietary intake is inadequate.
Ideal ratio of Omega Fatty Acids: Unlike many other plant seeds, hemp contains nature's perfect ratio (1:3) of omega-3 to omega-6 essential fatty acids required for optimal long-term health. Our modern diet contains high levels of omega-6, which disrupts the body's fatty acid balance and increase inflammation.
Essential nutrients: Our bodies do not produce essential fatty acids and can only be obtained through the diet.
Alternative to fish oil: 13 Seeds Hemp Seed Oil capsules provide a healthy alternative to fish oil, for those that are concerned about mercury or antibiotic consumption in fish.
Australian Hemp: 13 Seeds Hemp Seed Oil capsules use Tasmanian sourced hemp seed oil. 
Pure: 13 Seeds Hemp Seed Oil capsules are GMO-free, dairy-free, gluten-free, low GI, low sodium, and have no artificial flavours and colors. With no active CBD, chemicals, or preservative additives, the hemp is grown in the world's cleanest and greenest cool temperature environment.
Sustainable: Hemp harvesting is an environmentally efficient and self sustainable crop, known to improve soil health and as an effective bio-remediation for polluted soils.
Ingredients
Australian Cold Pressed Hemp Seed Oil 
Nutritional Facts

Serving Size: 30ml
Serves per pack: 16
| | | |
| --- | --- | --- |
| | Average qty per serving | Average qty per 100g |
| Energy | 962kJ | 3210kJ |
| Protein | 0.0g | 0.0g |
| Fat. total | 25.8g | 85.8g |
|  - Saturated | 1.8g | 6.2g |
| Carbohydrates | 0.0g | 0.0g |
|  - Sugars | 0.0g | 0.0g |
| Sodium | 0mg | 0mg |
Directions

Use Internally or Externally.
Internally
Take One Tablespoon daily or use Topically as required. Use as a Cold Salad Dressing or Cold Oil over Cheese, Meats or Finished Baked Goods
Do not use as a cooking oil as Hemp Oil has a very low smoke/burn temperature.
Externally 
Use as a skin moisturiser & healing balm.
Hemp Seed Oil can be drizzled over food, used as a dressing or added to smoothies.

Hemp Seed Oil can also be applied topically to your skin as a face and body moisturiser.
Free Shipping on all Australian orders over $75
We proudly offer free standard shipping on all Australian orders over $75. It's our little way of saying thank-you! Please note: If a discount is applied to an order and the updated order total is below $75, the order will not qualify for free shipping.


Domestic Shipping
All domestic orders that are placed before 9am AEST between Monday to Friday (excluding public holidays) will be packed, processed and despatched on the same day. For all orders placed after 9am AEST, these will be processed on the next business day. The estimated shipping time for Australian orders is 3-7 business days. Occasionally a delay may occur on pre-sale or out-of-stock items. If there are any unexpected delays, we will do our best to email you as soon as possible.


International Orders
Currently we only ship to New Zealand. Our delivery partners for international orders is AusPost and DHL. Shipping is charged at the cost price of the selected courier. Please note that we do not cover any duties or taxes that may be applicable and are unable to offer insurance on deliveries.


Order Processing
All 13 Seeds products are prepared to the highest standard in a HAACP certified facility. Once an online store order is received, the products are carefully packed into your parcel to be handed over to our courier partners. Your order will then begin its journey directly to your home or post office box.


Item Not Received
Once an order is prepared by our team, you will receive and email confirmation that includes the tracking code for your delivery. Please endeavour to track your order via this link as updates are posted in realtime. If you believe that your order has been lost in delivery, please email us at care@13seeds.com.au and we can launch an investigation for you.


Returns Policy
We offer a 30-day money back guarantee on the first opened bottle of a product, and all other unopened items once they have been returned to us. If there are any unexpected delays or damaged items - please don't hesitate to reach out and let us know so we can help!
Hemp Oil relief
Hi 13 Seeds, I want to say thank you for your prompt dispatch of my 3rd order of your liquid gold. I use it as topical and oral treatments, it soothes aches and pains and is helping a surgical scar wonderfully recover. It tastes great, is so delicious for everyday uses in meal preparation. I slurp it straight from the bottle everytime I open the lid. Thanks again
Thank you so much Mariana for your review! We are happy that you are loving our hemp seed oil! Good as topical and oral treatments!
great for the whole body been using 13 seed hemp oil for about a month and feeling great
Thanks Barry for your 5 star review! We are happy to hear about the effect of hemp seed oil on you!
The essential fatty acids in hemp oil can also protect your brain health, reducing the risk of degenerative diseases like Alzheimer's and Parkinson's. Hemp seed oil can also help boost your energy levels and improve your overall stamina. This makes it a great natural remedy for fatigue and low energy levels.
Hemp seed oil
I tried this, but the taste of it made me gag, I gave it to my son who thinks it is helping with restless legs and sleeping. Maybe I might be better with capsules.
Hey Sandy!
Thanks for your 5 star feedback!
The main benefit of the Hemp Seed Oil Capsules over the Hemp Seed Oil is that:
Convenience: Hemp Seed Oil needs to be taken regularly and consistently in order to work its magic! It can be easy to forget to have your daily dose of oil in comparison to the capsules
Easy dosing: Just take 3 capsules rather than measuring one teaspoon
Taste: If you don't love the earthy taste of Hemp Seed Oil - the capsules will let you get your dose without the taste!
Other than that - the two products are exactly the same!
My Labrador's new lease on life
I have a 6 year old Labrador, Sadie who has several genetic disorders, including severe double hip dysplasia, torn ACL's and slowly going blind. Sadie has had major surgeries to both back legs, however her hips are so bad they can't do anything more for her. Vets told me in 2020, her quality of life would be so poor, I should consider putting her down. Since 2020 I have been giving Sadie this hemp seed oil in her food twice day, everyday, and she is like a new dog. It has also made her eyesight better, in that she isn't going blind as quickly as the vets predicted. Sadie runs around with the other dogs, happy as and doesn't even walk with a limp anymore. I credit her improved health to this hemp seed oil. I also use this oil in making dressings and protein balls, its like liquid gold!
Thank you so much for your feedback Sandra. We are happy to know that Sadie got better! Hemp oil for dog is rich in essential fatty acids, including omega-3 and omega-6. These fatty acids help to nourish your dog's skin and coat, keeping it healthy and shiny. It can also help to reduce itchiness and irritation caused by dry skin and allergies. Also good in health condition.
To early to tell.
Having it 3 times a day .
I'm using it with my intermittent fasting & one meal a day as fatty energy that won't break my fast & also after my main meal post workout . I'm a construction worker that can have intense physical work days followed by physical gym training sessions. So i need all of the help i can get . If i'm correct hemp seed oil & a fasting lifestyle should work well together.
Thanks for your 5 star feedback! Yes, it is safe to take hemp seed oil on an empty stomach. Hemp seed oil is a natural source of essential fatty acids, which are essential for your body's overall health and wellbeing. Taking hemp seed oil on an empty stomach can help your body absorb the fatty acids more quickly and efficiently. So it is good for fasting :)