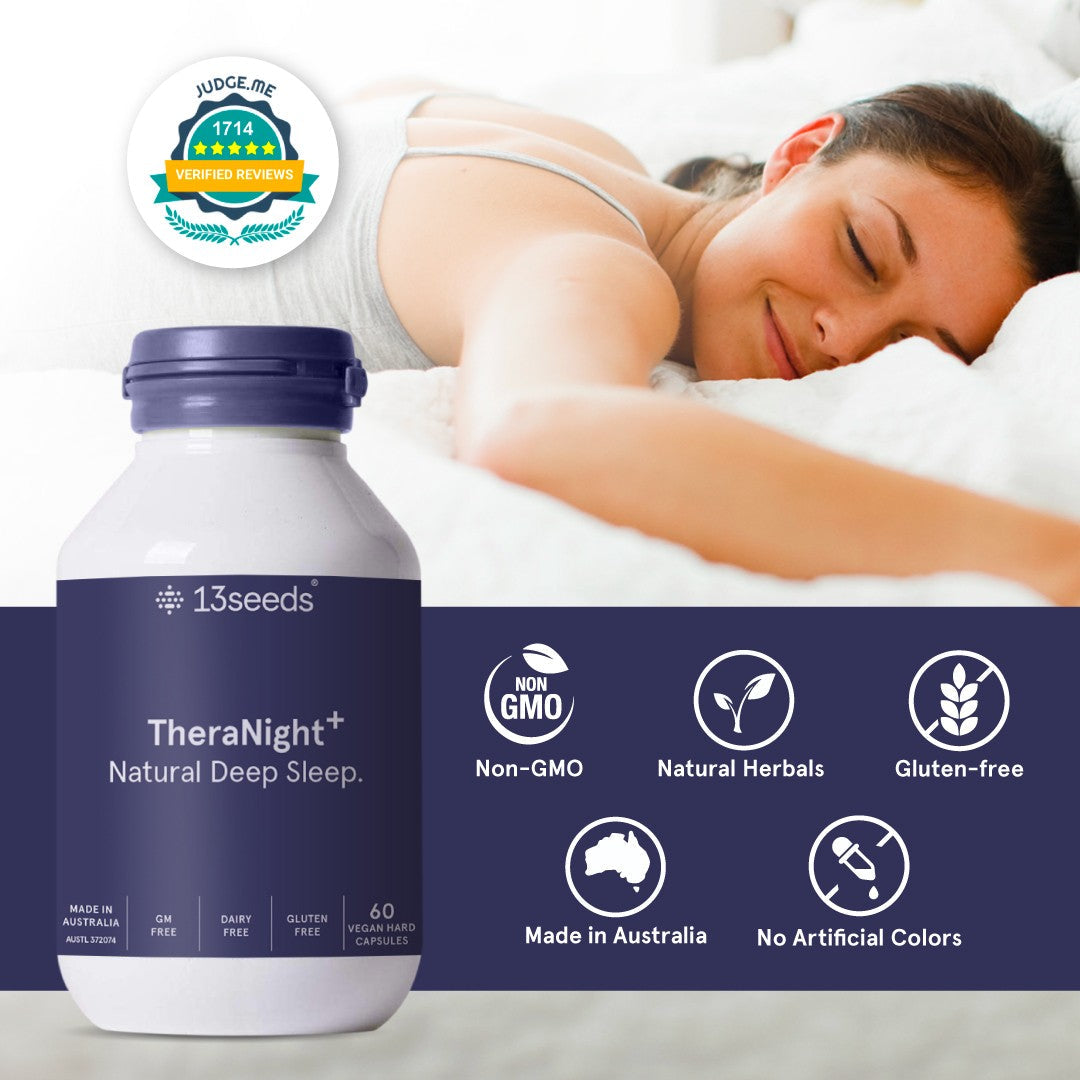 TheraNight+ Natural Deep Sleep
Please hurry! Only 924 left in stock
TheraNight+ is a natural sleep supplement formulated to assist in relieving sleeplessness, calming the mind and easing nervous tension.
Regular price

Sale price

$32.00

Unit price

per
10 customers are viewing this product
Free standard shipping for orders over $75 within Australia
Disclaimer
Always read the label and follow directions for use. If symptoms persist, talk to your healthcare provider. Supplements may only be of assistance if dietary intake is inadequate.
A natural sleep supplement formulated to assist in relieving sleeplessness, calming the mind and easing nervous tension.
TheraNight+ blends four clinically standardised herbal extracts including Valerian, Hops, Passionflower and Lemon Balm. The formulation works synergistically to help you fall asleep and stay asleep, wind down and calm your mind before bed.
Efficacious formulation: TheraNight+ has been formulated with a unique synergy of herbal botanicals with clinical evidence to help you fall asleep and stay asleep longer.
Stronger than leading sleep formulas:

 

With 2 x overall strength of leading sleep brands, more potency per dose of each individual herb, we guarantee the efficacy of our sleep formula.
No melatonin:

 

TheraNight+ does not contain melatonin or synthetic hormones and enables you to wake feeling refreshed and revitalised (not groggy). in the morning.
Pure:

 

Made without fillers, coaters, binders, synthetic hormones or colourants.
Please note:

 
1 bottle contains a 1-month supply. 
Serving Size: 2 capsules
Serves Per Bottle: 30 (60 capsules)
Adult Dosage:
Two capsules daily, 1-2 hours before bed, or as directed by a healthcare professional. If symptoms persist, talk to a healthcare provider.
Not suitable for children.
VALERIAN (Valeriana officinalis) root extract 150mg
Equivalent Valeriana officinalis root dry 1.5g
HOPS (Humulus lupulus) strobile fruit extract 100mg
Equivalent Humulus lupulus strobile fruit dry 1g
PASSIONFLOWER (Passiflora incarnata) flower & leaf extract 150mg
Equivalent Passiflora incarnata flower & leaf dry 1.5g
LEMON BALM (Melissa officinalis) leaf extract 44.44mg
Equivalent Melissa officinalis leaf extract 1g
Free Shipping on all Australian orders over $75
We proudly offer free standard shipping on all Australian orders over $75. It's our little way of saying thank-you! Please note: If a discount is applied to an order and the updated order total is below $75, the order will not qualify for free shipping.


Domestic Shipping
All domestic orders that are placed before 9am AEST between Monday to Friday (excluding public holidays) will be packed, processed and despatched on the same day. For all orders placed after 9am AEST, these will be processed on the next business day. The estimated shipping time for Australian orders is 3-7 business days. Occasionally a delay may occur on pre-sale or out-of-stock items. If there are any unexpected delays, we will do our best to email you as soon as possible.


International Orders
Currently we only ship to New Zealand. Our delivery partners for international orders is AusPost and DHL. Shipping is charged at the cost price of the selected courier. Please note that we do not cover any duties or taxes that may be applicable and are unable to offer insurance on deliveries.


Order Processing
All 13 Seeds products are prepared to the highest standard in a HAACP certified facility. Once an online store order is received, the products are carefully packed into your parcel to be handed over to our courier partners. Your order will then begin its journey directly to your home or post office box.


Item Not Received
Once an order is prepared by our team, you will receive and email confirmation that includes the tracking code for your delivery. Please endeavour to track your order via this link as updates are posted in realtime. If you believe that your order has been lost in delivery, please email us at care@13seeds.com.au and we can launch an investigation for you.


Returns Policy
We offer a 30-day money back guarantee on the first opened bottle of a product, and all other unopened items once they have been returned to us. If there are any unexpected delays or damaged items - please don't hesitate to reach out and let us know so we can help!
Thera night
I was quite suprised by how well this product gave me a deeper sleep, I have a lot of pain at night from Arthritis and a nuroma in my foot. The Theranight really did improve my sleep.
Thank you so much Sandi for your feedback. It is great to know that our Therajoint+ helps to improve your condition. We hope you feel even better in the coming days
Amazing product
I have struggled with sleep for years and on the first night of using these tablets a full night uninterrupted sleep, very very happy with that!!!
Thank you very much Sue for your wonderful feedback! TheraNight+ is formulated to aid mind relaxation and relieve sleeplessness as well! We are so happy to hear that you are getting positive improvements from our Theranight+
Please feel free to shoot us a message if you need assistance.
Seems to work
I have no problem going to sleep. Staying asleep was my problem. I would wake up about every 2 hours. After taking Thera night for a couple of weeks my sleep period extended to 4 hours. After another couple of weeks I was up to 6 hours. My only complaint is that they offered 30 percent discount which at that time I was never able to access. I asked a question about that in their chat room and never received a reply. Mind you with one of their other products I pointed out one couldn't read white writing on an orange background and it took them 4 or 5 months to reply.
Hey Richard! Thank you very much for your feedback! It is good to know that our Theranight+ is making a positive difference on your sleep pattern. We hope you feel even better in the coming days.
Regarding to your messages, I am sorry that the messages were not successfully received. You may also email us at care@13seeds.com.au, we will respond immediately. Again, my apologies for the inconvenience.
I like that!
One of the things I don't like about sleep aids is feeling groggy the next morning. Since taking Theranight I wake up with more energy, it's as if the sedative effect disappears during the day and I like that!
Thank you very much Zoe for your feedback! Yes, no groggy feeling in the morning ☀️
sleep improved little by little.
I must admit that I was desperate and I was disappointed with Theranight the first few nights I took it and even woke up after a few hours but I decided to keep going and I noticed my body and sleep improved little by little.
That is great to hear Ruby! The capsules technically take 1 hour to dissolve and start working, the effects are better when the body learns it can take 7-14 days. Our bodies are different and reacts different to supplements. We are happy to know that our Theranight+ is helping with your sleep.